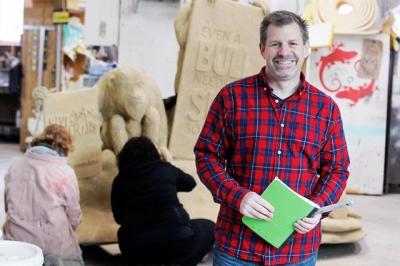 Rahway company crafts props for stage and screen
HARLAN SILVERSTEIN may be the greatest Broadway success you've never heard of.

He's never belted out an 11 o'clock number and brought a crowd to its feet. He's never written show tunes. He's never received a Tony Award either -- in fact, he's never been eligible for a nomination.

But when you step inside his office, nestled inside a stark concrete warehouse in Rahway, you see dozens of Playbills -- "Gypsy," "Newsies," "Elf," "Matilda," "Jersey Boys" -- from shows he's helped develop.

Then, there are the monkeys. With red bows around their necks and cymbals ready to clang together, the little plush characters sharing a bench in a lobby are straight out of "The Phantom of the Opera."

They're made by the company Silverstein co-founded in 2003 -- The Spoon Group -- a one-stop prop shop that provides just about any item you can imagine, from animated primates to a replica of an airplane, for stage shows, films and events.
<!-